Carlos Hilado Memorial State University (CHMSU) envisions itself as the leading GREEN institution of higher learning in the global community by 2030. Thus, it commits to empowering the youth and lifelong learners to contribute to nation-building and global transformation through quality education.
Its logo embodies the various facets of service delivery in pursuit of its institutional vision, mission, and objectives.
The green circular frame reflects the University's resilience and boundless aspirations and goals as a higher learning institution. The outer layer with the University's name in white reveals CHMSU's pure and royal desires. The two shades of blue show the University's calm confidence and openness to the challenges and changes.
Moving into the inner circle, the two green sugarcane stalks on both sides depict CHMSU as a GREEN institution that serves both northern and southern Negros. 1954 is the year of its conception as a trade school.
The sun's yellow rays portray the enlightenment that radiates from the University. The four (4) complete rays represent the four campuses covered in the conversion of the College into a university. On the other hand, the half rays at both ends represent the two external research and extension centers to be developed into two more external campuses.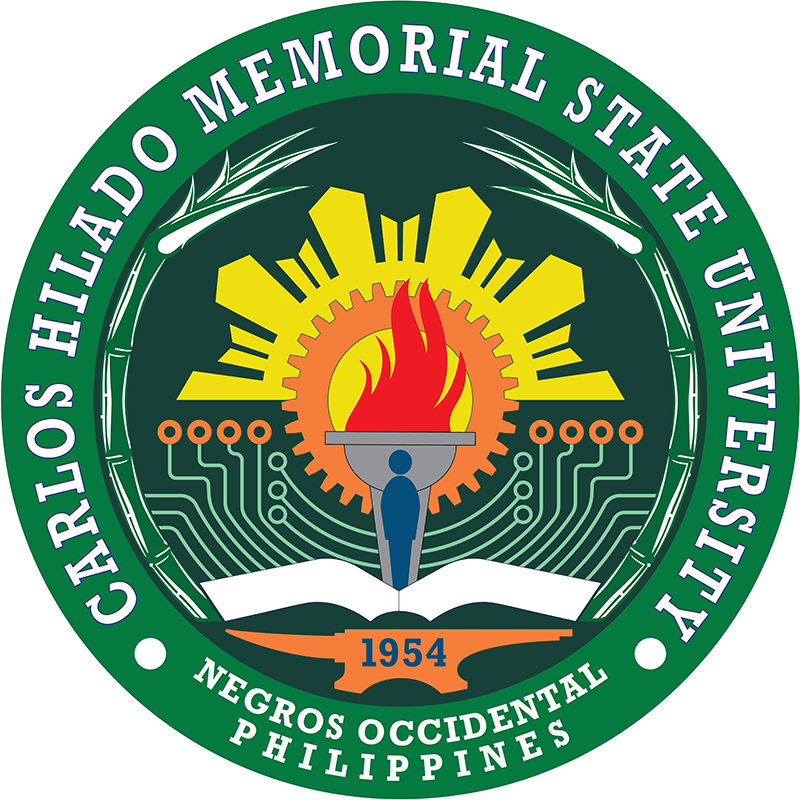 The orange gear embodies the heritage of academic programs in the field of engineering and technology through the years. It epitomizes the power that drives CHMSU to transmit knowledge and skills that enable it to accelerate national development through its education brand.
The torch symbolizes the zeal of CHMSU to capacitate their entire community to contribute to society by applying the knowledge and skills gained from the University.
Below the gear is an electronic circuit design that symbolizes innovation and technology. It comprises eight (8) circular orange terminals and green circuit lines. The terminal represent the eight (8) existing colleges of the University as of 2022, while the green circuit lines represent the connection of the eight (8) colleges to the book that serves as the source of knowledge, the sugarcane that further defines the Negrenses who CHMSU serves, and the human icon/figure that represents the students.
The networking connections among the various aspects of CHMSU education all converge in the human figure that represents the students. Thus, at the core of the logo is the human figure, placed in the center of an open book which demonstrates the CHMSU person-centered orientation aimed at the full development of the students.
The anvil figure is in commemoration of the origin of the University as a trade school in its beginning.
The University logo is a prominent seal of CHMSU that genuinely epitomize its role in uplifting the lives of people, embodied with competence, integrity, and concern for a better society.
BOR Resolution No. 21,s. 2022