While our vehicles have made our lives more convenient and travelling a lot easier, being on the road has its risks and requires focus, preparedness and commitment to safety.
The World Health Organization recorded that approximately 1.3 million people die each year as a result of road traffic crashes and between 20 and 50 million more people suffer injuries and disabilities. Ironically, 93% of the world's fatalities on the roads happen in low- and middle-income countries, even though these countries have around 60% of the world's vehicles. According to the Philippine Statistics Authority (PSA), road accidents were the thirteenth top cause of death of Filipinos in 2022.
With the alarming number of cases, the Department of Transportation calls on each citizen to be responsible road-users. Many accidents can actually be prevented if the driver is prepared. One of the most basic practices that the DOTr strongly encourages is the observance of BLOWBAGETS before getting on the road.
BLOWBAGETS is a simple checklist that all drivers can follow to ensure that they are in good condition to drive and that their vehicles are safe for the road. It stands for battery, lights, oil, water, brake, air, gas, engine, tire, and self. Checking these areas or items before hitting the road can effectively decrease the chances of accidents.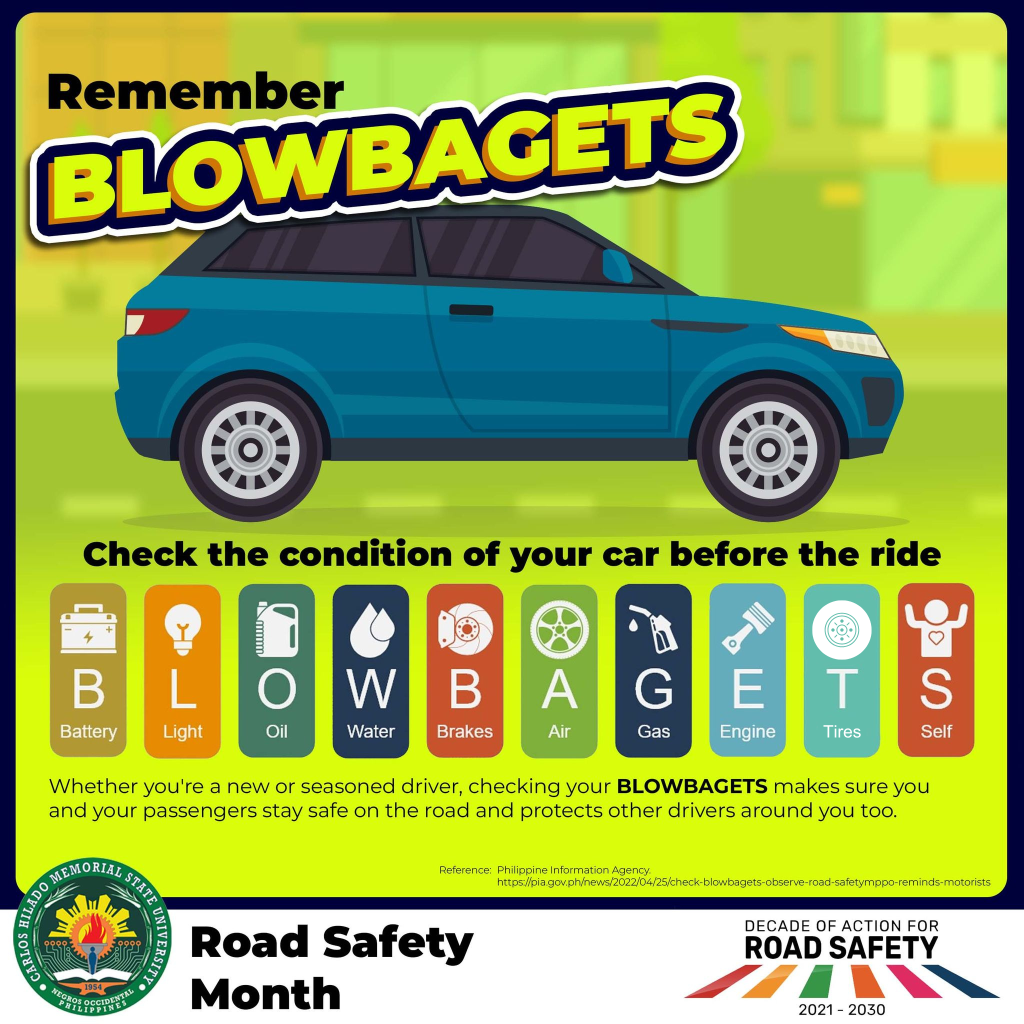 Battery
Limit short rides
Keep batteries tightly fastened
Turn off all the lights before getting off
Control the corrosion
Do not use gadgets or accessories when engine is off
Light
Always clean lens
Make sure to switch the lights ON before sunset
Switch OFF cabin lights when engine is off
Keep windshield and mirrors clean
If possible, switch to low beam lights if you are within 200 meters of the car in front of you
Avoid too much tint
Avoid using excessive lights
Oil
Check the engine oil level regularly and add if necessary
Change oil at regular interval
Check for oil leaks
Avoid prolonged RPM to avoid oil leaks
Check the ball joint grease, fluids and steering oil or gear o
Water (Coolant)
Check the water level regularly
Avoid overfilling the reservoir to maintain correct back pressure
Replace radiator cap, if required to avoid overheating
Do not condemn thermostat
Always check upper and lower hose
Brakes
Check for oil leaks on the brake master cylinder
Check for oil leaks on the caliper or piston
Check for allowable thickness of rotors and brake pads
Regularly wash the rotors and pads to remove residuals or dusts
After repair – drive the vehicle and apply intermittent brake within a block
Always check for leaks on pipes
Check fluid reservoir (color and odor)
Accessories
Check for body scratches / damages, doors and windows, wiper, side and rearview mirrors, cluster instrument, etc.
Check the horn, spare tire, early warning device, AC components, horn and seatbelt, parking brake, etc.
Gas/Fuel
Avoid short trips
Avoid heavy traffic
Do not carry too much load
Close your windows if aircon is ON
Accelerate smoothly
Shift smoothly
Follow the speed limit
Check tire pressure
Check for leaks
Avoid using different brands of fuel
As much as possible, do not overfill the fuel tank
Replace fuel tank cap, if required
Electrical
Avoid installation of electrical accessories
Accessories must be installed or repaired by a qualified auto electrician
Avoid using substandard electrical wires, fuse, and fuse holders
Never pour water on dashboard when cleaning
Never do a spaghetti wire
Tires
Always check the tire pressure before leaving or every scheduled stop
In the absence of a chart, usually situated near the driver seat, the ideal maximum tire pressure when cold is minus 4psi
The common tire problems are due to toe-in or toe-out. This may be observed after a long trip
Rotate the tires at 45 degrees whenever the vehicle has been parked. This will prevent cracks on sidewalls
Worn out kingpins and control arms greatly affect the wear and tear of tire
Self
Be physically fit and mentally prepared before sitting on driver's seat and touching the steering wheel
For Motorcycle Riders
Aside from BLOWBAGETS, check the following:
Accelerator and Brake Cable
Accelerator Throttle
Drive chain or belt
Be aware of excessive modifications such as tailpipe, lights, and mirrors.
Sources:
https://www.who.int/news-room/fact-sheets/detail/road-traffic-injuries
https://www.gmanetwork.com/news/topstories/nation/866890/dotr-raises-concern-over-increase-in-deaths-due-to-road-accidents/story/
LTO Filipino Driver's Manual Volume 1, 2nd Edition